Hurray! Hurray!! Hurray!!!

Another season of Accolade at Crescent International Kano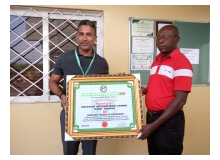 Another history was made at Crescent International school Kano, on Tuesday, 27th of February 2018 when a renowned group in Nigeria; The National Association of Nigerian Students added another feather to the Laurels of our Director. The student's body presented an Award of Excellence in prudent management of Capital and human resources to the Director, Crescent International school Kano Since he took over the management of the affairs of C.I.S. over a decade ago.
The Award ceremony also showcased his contributions as the Director of C.I.S. in the development of capital and man-power in particular and complete advancement of humanity in general.
The Award ceremony featured a brief recitation of the biography of our amiable Director Mr. Mohammed Wasiu Syed and the history of Crescent International School Kano as well as that of the founder of C.I.S. Mr. Etheinsam Syed.
The high-point of the event was the presentation of the "Award Plaque which was received on behalf of the Director by Mr. Solomon Caleb, one of the senior masters of the school.

The event came to a close with a Group Photograph with the NANS members, the Director, members of both academic and non-academic staff the school.