School Health Service
The School health services contribute to the goals of the education system of Crescent International School.
At Crescent International School, we have three sick bays that are managed by a qualified nurses.
The sick bay is a place where first aid treatment is administered and if necessary, recommendation or reference is given to the patient to seek treatment in a general hospital as the case may be.
At the sick bay we are sufficiently provided with relevant and necessary drugs and equipment e.g. paracetamol, buscopan, salvon disinfectant, cotton wool, gestide, iodine, disposable gloves, hydrogen peroxide, plaster, bandages, first aid box, tissue paper, sanitary pads, soap, bleach, hand sanitizers, dressing drum, nail clippers, neutrogestic ointment, surgical gloves, spirit, ventolin inhaler, water dispenser and a host of other important items the children may need in cases of emergencies.
Our health care services include administering medications and treatment for minor ailments and injuries, providing first aid, health counseling and education.
Healthy children are successful learners. Therefore, our health care services advocate for the physical, emotional, mental and social health of the pupils.
One of the three sick bays in Crescent International School
Crescent International School Health Service Staff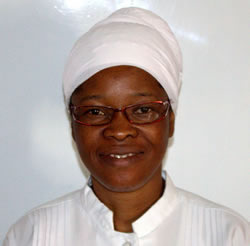 Mrs Esther F. B. (Senior Section Nurse)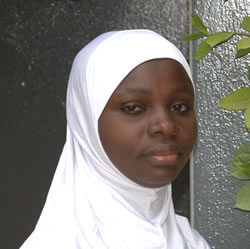 Mrs. Halima Ldajila (Junior Section Nurse)